We've just about got our beans in a row for 2022…
The first big news is that, with support from the Arts Council,
we have arranged for Jess Gillam to headline our Centenary Concert.
Jess is an internationally acclaimed saxophonist, broadcaster and presenter and she has agreed to come and play for us and to talk with our own young and rising stars who will be sharing the programme that night.
Jess has been involved with the Festival movement and is keen that festivals such as ours will survive and thrive.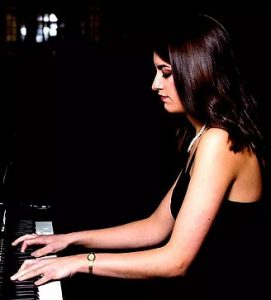 Another headline for the week is that we have a new Official Accompanist – none other than our own Nicole Johnson!  Nicole has grown up with the Skipton Festival from her very early days and she is now established as a freelance pianist, vocal coach and musical director.  We are delighted to be able to welcome her back again!
Nicole is an accomplished accompanist – and fully appreciates the needs and pressures of our young performers!
The Centenary Festival will take place at Christ Church, Skipton from 7th – 12th March.
The Festival Concert will be in Skipton Town Hall on the evening of Sunday 13th March.
The syllabus is prepared!  You will find that here.  There is a limited numer of printed copies available – if you want one to be posted to you, read here.
Entries will close on 17th January.